The US Army 11th Annual International Sniper Competition wrapped up on 30 September 2011.  The competition occurred over 4 days and consisted of 32 teams from the US Army, Army Special Operations (USASOC), United States Air Force (USAF), United States Marine Corps (USMC), Army National Guard, International teams from Canada, Ireland, Germany, and Spain, as well as Law Enforcement Teams from Broward County Sheriff's Department in Florida and San Diego Police Department in California.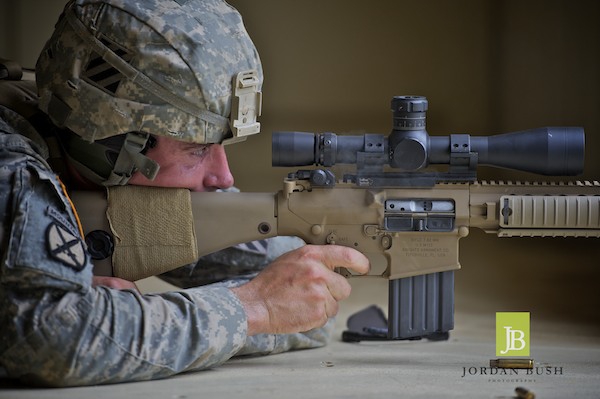 This year the Army issued each team 2 Knight's Armament Company (KAC) M110 SASS (Semi-Auto Sniper System), as well as accessories for Night Operations (Insight Technologies PEQ-2A, or PEQ-15 lasers and KAC PVS-26 Long Range Night Sights).  It was the first year the KAC gun was used by all competitors. The Army had several reasons for this. First and foremost: it provided a level playing field. In past competitions foreign and law enforcement teams had been hampered by the lack of Night Vision compatibility
of their systems, as well as Foreign or SOF issue of different calibers.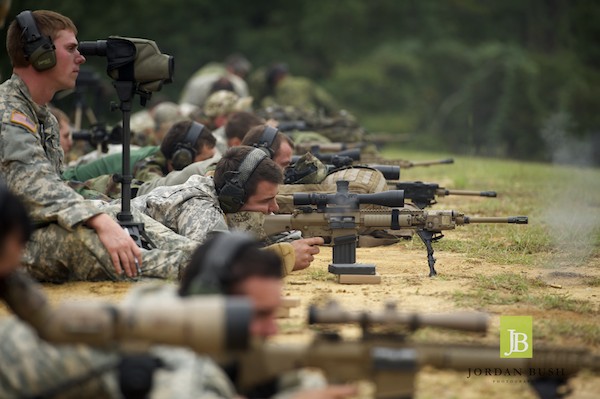 US Army Sniper School and Army Marksmanship Unit members had tested all weapons previously to ensure they were within specifications, and they as well as Leupold Tactical Division (from Leupold & Stevens optical company who provide the optics for the M110 SASS) were there to assist with any zeroing issues prior to the competition.  Leupold
also donated 32 of their new 6.5-20×50 MkIV scopes that are used on the Army's new Remington M2010 .300WinMag Bolt Action Sniper Rifle that is now being issued for use in Afghanistan.  Leupold also offered the scopes for sale to the competitors after the competition.
http://www.benning.army.mil/snipercompetition/
The Competition consisted of a number of events designed to challenge the sniper teams' roles.  The results were:
| | | |
| --- | --- | --- |
| Place | Team | POINTS |
| 1 | B CO 2/3RD SFG (A) | 560 |
| 2 | IRISH DEFENSE FORCES (Ireland) | 490 |
| 3 | D CO 2ND BN 1ST SWTG | 475 |
| 4 | HHC 1/158TH IN 29TH BCT | 455 |
| 5 | D CO 2ND BN 1ST SWTG | 445 |
| 6 | 2PPCLI (Canada) | 390 |
| 7 | 10TH SFG (A) | 350 |
| 8 | WTBN, SSIS QUANTICO (USMC) | 345 |
| 9 | HHC 1/121ST IN 48TH IN BDE | 335 |
| 10 | SOI-WEST AITB RTC (USMC) | 330 |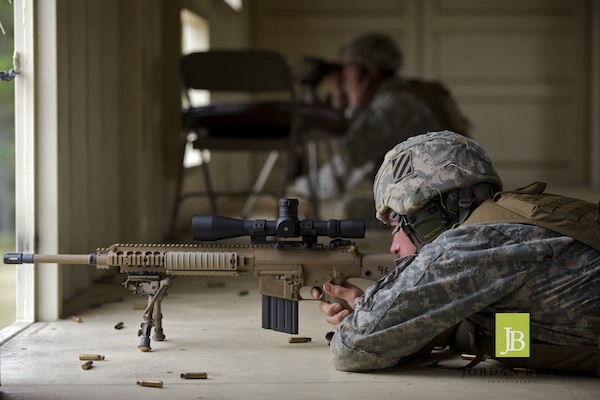 On the final Friday, Vendors had an open shoot where competitors and public could come up and shoot some of the items used in the competition, or show offerings they are hoping the Army may be interested in.  For KAC this was an opportunity to showcase the new M110K1 Carbine: the 16" barrel dual role precision carbine that we are offering as an upgrade to the M110 SASS.  The XM110 program was drafted in 2002, and the program was awarded to KAC in 2004; however, due to protest, the main fielding of the system did
not occur till 2007 when the protest was dismissed.  KAC has a CPIP (Continuous Product Improvement Program) effort in effect with all our of systems, and the M110K1 was developed from an SOF specific system with many upgrades on the tried and true M110 platform, and deployment mission feedback from the end user community. USASOC (US Army Special Operations Command) 1SWTG is hosting their Sniper Competition in Ft. Bragg N.C. 5-9 December 2011.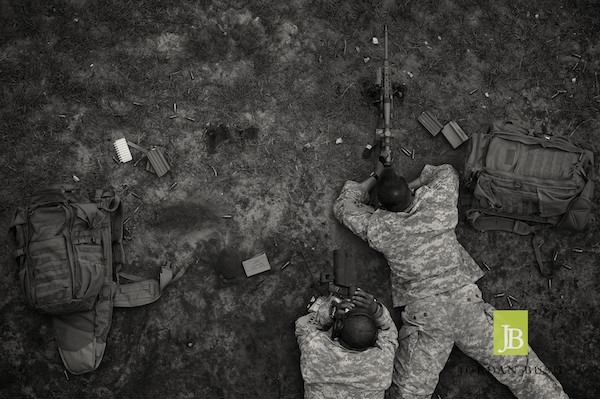 The photographs used in this article are courtesy of a fine photographer named Jordan Bush. Jordan attended the 11th International Sniper Competition at Ft. Benning, GA and was an integral player in documenting this fantastic event. He captured an array of striking photographs, some of which are featured in his latest blog. Mr. Bush considers himself to be a 'non-fiction photographer, a photojournalist' from Pennsylvania who has a broad focus on many subjects including sports, weddings and social issues. He uses his talented viewpoint to capture the world around him in a way that conveys a rich and moving story. Check out his website at www.jordanbushphoto.com and be sure to view his latest gallery from the 11th International Sniper Competition.