Knight's Armament puts forth a concerted effort to invest ourselves in the future of our Country's youth. Besides the founding of our Institute of Military Technology, KAC has partnered with local high schools to provide opportunities to a special group of students. The STEAM Academy is a specialized program that caters to students who show interest and ability in the fields that comprise its name: Science, Technology, Engineering, Aerospace & Manufacturing. On 10Feb, students from the STEAM Academy of Space Coast High School were treated to a full tour of the KAC Facility here in Titusville, FL. As Knight's is one of the few companies that houses everything in one building, the students were able to experience the total process from conceptualization to design, and testing to manufacturing. The students were also able to tour the Institute of Military Technology and see the development of technology used in firearms and military vehicles over more than 150 years.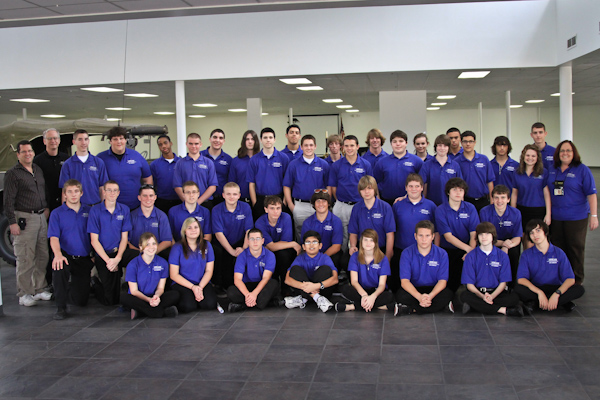 Carolynn Gannon, a drafting instructor and mentor with the STEAM Academy, said that the academy exists to bring like-minded students together and give them focused, first-hand experience in these 5 distinct fields. Carolynn said that the youth which are typically attracted to and do very well in the academy are the ones which are already quite inventive or constantly tinkering. They are the youths who are not satisfied with a basic understanding but want to delve into why and how something works the way it does.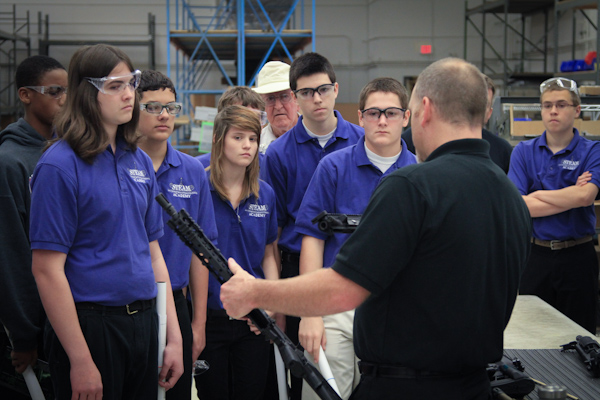 While the academy has various guest speakers from a few local sources, Carolynn says that Knight's has been the biggest sponsor and affords the students an experience that they could never receive sitting in a classroom. Knight's provides engineers, welders, machine operators, electricians, and even support from human resources who provide tips to students on job hunting and interviewing techniques. As our company has a staff with diverse backgrounds, KAC is in a position to provide unique perspectives from all walks of life. STEAM also provides the students with summer camps and break-out sessions that give the students further hands-on experience. All this helps expose the young people to many disciplines and assist them in choosing careers that are beneficial and fulfilling. Knight's has also partnered with the academy to bring in the instructors so that they can relay the latest techniques and real-world experiences to the students.

We interviewed one of the students, Justin Hoelke, and had a chance to ask a few questions about his experiences with STEAM. He was inspired to enter the academy to follow in his father's footsteps in the manufacturing sector (his father happens to be our facility's General Manager). This is his second year with the academy and he says it really gives him the opportunity to see what his chosen career path would entail. Justin says that the field trips and team projects are the most beneficial aspects of the program. The program really builds team-building skills and focuses on actual application of skill sets, not only theoretical. Even after seeing the ins-and-outs of manufacturing disciplines, Justin still plans to continue with his plans to attend a local school such as FIT or UCF, and finish his engineering degree program at UF.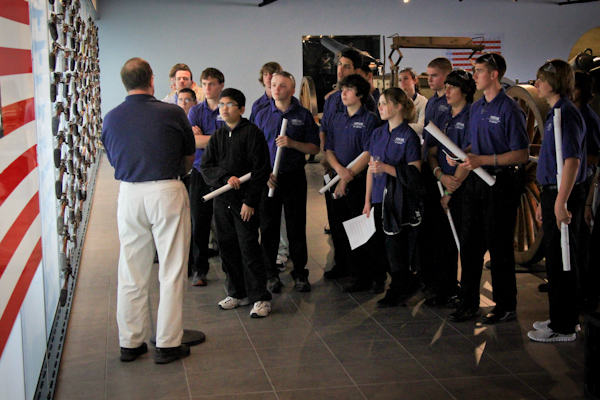 With programs like these and the various scholarships that Knight's sponsors, KAC is investing in the future of our young people. We consider this to be an integral part of our company's social responsibility and will continue to strive to provide opportunities for our young people. Check back often for the latest in news from Knight's Armament Company.